Ocular Irritection® - Il primo test animal free per l'irritazione oculare
The corneal irritancy of test materials is known to be related to their propensity to promote denaturation and disruption of corneal proteins. The Ocular Irritection® Assay System is an in vitro test method that mimics these biochemical phenomena.
This test consists of two essential components:
A membrane disc that permits controlled delivery of the test material to a reagent solution and;
A proprietary reagent solution that is composed of proteins, glycoproteins, lipids and low molecular weight components that self-associate to form a complex macromolecular matrix.
Controlled mixing of the test material and the reagent solution during the assay incubation period promotes protein denaturation and disaggregation of the macromolecular matrix. The changes in protein structure that are induced by the test material may be readily quantitated by measuring the resulting changes in turbidity (OD405) of the reagent solution.
Comparison of these optical density measurements to those produced by standard chemical irritants permits calculation of an "irritancy score" that has been shown to be directly related to potential human corneal irritancy of the test material.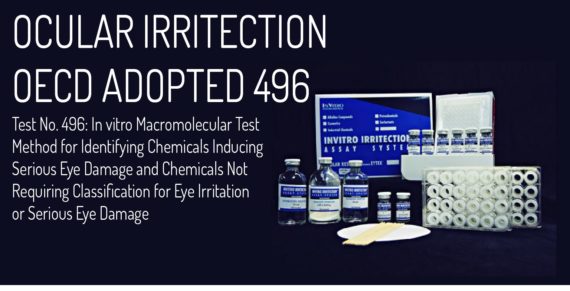 The Ocular Irritection® protocol consists of five steps:
1. Sample preparation
2. Preparation of the protein reagent solution
3. Test setup
4.Incubation for 24h to allow reaction of samples and protein reagent.
5. Determination and interpretation of test results.
The first three steps can be completed in about two hours. The final phase must
be executed the successive day and can be terminated in about an hour.