Innovation at the service of your company
INT.E.G.RA. is a partner of InVitro International, a pioneer in the development and application of completely animal-freein vitro methods.
Our laboratory kits allow for the rapid and accurate detection of irritants and corrosives.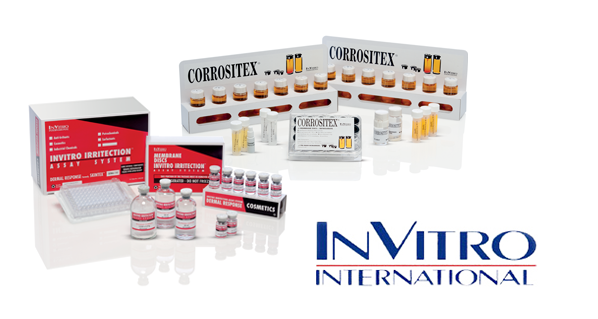 Our kits are certified by the world's highest institutions for proper GHS classification
Our testing technologies are designed to produce data accepted by global regulatory agencies for ocular/dermal irritation and corrosivity, data that is highly correlated with animal and human test results:
Corrositex®, InVitro's skin corrosion test, is accepted by GHS/OECD and almost all other agencies globally.
Ocular Irritection® is adopted by OECD and accepted by REACH (GHS) to evaluate chemicals and formulations.
Whether you are using InVitro International test data alone, or in integrated testing strategies, Ocular Irritection®, Irritection® Dermal and Corrositex® test results are part of over 30 years of accurate prediction of human ocular/cutaneous irritation and skin corrosion.
Our assay systems are based on macromolecular reaction technologies or biobarriers designed to replicate the human dermis, or eye.
No cell culture or biology lab is required to perform InVitro testing, it is all 100% animal free.
They are the fastest and easiest to use tests on the market
Irritection® Assay System results in 24-48 hours.
Corrositex® Assay System results in as little as 3 minutes and no more than 4 hours.
Compatible with all plate readers
Corrositex® OECD 435 determines chemical corrosivity and allows assignment of GHScategory andU.N. packaginggroup classification for Class 8 corrosives.
This test completely replaces the rabbit skin corrosivity test.
The first and only100% animal free eye irritation test adopted by the OECD.
Ocular Irritection® OECD 496 identifies and classifies chemicals that induce severe eye damage and chemicals that do not require classification.
It is known that chemicals that cause skin irritation induce changes in the structure of keratin, collagen and other proteins of the dermis.
Dermal Irritection® mimics these biochemical phenomena to assess the potential irritant capacity of test substances.
INT.E.G.RA. is the exclusive distributor of InVitro International kits for its customers in over 23 countries in Europe.
We are InVitro international European Traning Center: the only center in Europe authorized to provide training courses on InVitro international methods.
InVitro International's Story
InVitro International was founded in 1985, to develop and commercialize reliable and cost-effective in vitro laboratory tests for the evaluation of substances that are potentially toxic or irritating to humans and the environment.
The company pioneered the development of these faster, simpler non-animal testing methodologies to partially or fully replace the practice of using animals as test subjects for these same purposes.
Beside the humane aspects of reducing the use of animals for irritation and toxicity testing purposes, using alternative testing methods presents a compelling business and financial benefit to organizations using in vitro methods.
They positively impact both product development time and cost.